Acerca de Adblock Plus
¿Qué es Adblock Plus?
Adblock Plus is a free extension that allows you to - among other things - block annoying ads, disable tracking and block domains known to spread malware. Available for Android, Chrome, Firefox, Internet Explorer, Maxthon, Opera, Safari and Yandex, Adblock Plus uses filters that you choose to block all unwanted elements.
Created by Wladimir Palant in 2006, Adblock Plus is an open source project. In 2011, Palant, together with Till Faida, founded Eyeo to make its development sustainable.
¿Cómo funciona Adblock Plus?
Adblock Plus itself has no functionality; it doesn't block anything until you "tell" it what to block by adding external filter lists. Filter lists are essentially an extensive set of rules that tell Adblock Plus which elements of a website to block. You can add any filter list you want. For example, block tracking or malware. You can also create your own filter lists. Almost all filters are open source, therefore many filter lists have been created by Internet users.
Dos listas de filtros vienen activadas por defecto:
Una lista de bloqueo de anuncios basada en su idioma.
La lista de excepciones de Anuncios Aceptables.
These are enabled to get you started. You can remove them or add others - it's up to you.
EasyList corresponds to your browser language and is aimed at disabling ads that are considered to be intrusive by our community of users. Eyeo GmbH did not draft EasyList and therefore has no right to, or control over, its content. Visit the EasyList Community for more information.
The Acceptable Ads list displays ads that comply with the acceptable ads criteria agreed upon by our community of users. The list is maintained by Eyeo GmbH.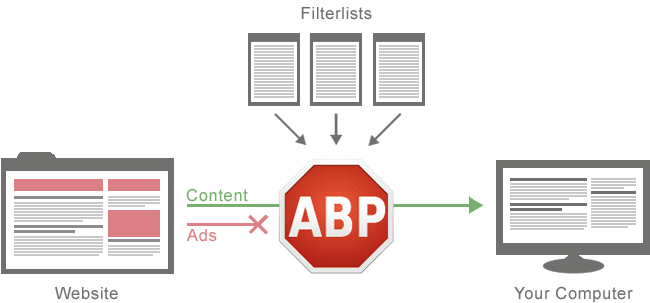 ¿Qué son los Anuncios Aceptables?
We don't think all ads are bad and are fully aware that ads finance many websites. So, in 2009 we decided to find some common ground. Our solution involved asking Adblock Plus users, and our community at large, to help identify criteria that makes for better ads. From these discussions, we established strict criteria to identify nonintrusive ads. In 2011, we began implementing the Acceptable Ads initiative. Participants that wish to comply with the Acceptable Ads initiative can apply to be added to the Acceptable Ads list. Adblock Plus users have the option to display ads that are on the Acceptable Ads list or to disable the Acceptable Ads feature and browse completely ad-free. To view the list of acceptable ads, visit the Acceptable Ads Proposals forum.
Para conocer más, visite la sección de Preguntas Frecuentes de Anuncios Aceptables.
How do we make money?
We receive donations from our users and are being paid for support services performed for some larger entities that want to participate in the Acceptable Ads initiative.
Managing the Acceptable Ads initiative requires significant effort on our side including, but not limited to, ongoing review and monitoring of the individual whitelisted ads, counselling participants and technical support. This service cannot be completely taken over by volunteers nor be sponsored through donations, as it happens with common filter lists.
Therefore, a few very large entities who take part in the Acceptable Ads initiative compensate Eyeo for its service. Eyeo's service is provided free of charge to all other participants (roughly 90%).
Important: Every entity on the whitelist - paying participant or non-paying participant - MUST maintain the same strict criteria that our users accepted as part of the Acceptable Ads initiative. We will never accept any ad that doesn't meet these criteria. There is no way to buy a spot on the Acceptable Ads exception list. All whitelisted ads and participating entities are publicly listed in our forum. Feel free to discuss and share your opinions.
¿Por qué necesitamos dinero?
Eyeo GmbH, the company behind Adblock Plus, was founded to pursue a different vision of online advertising. This is not something a single person can do as a hobby.
Necesitamos que el número de usuarios de Adblock Plus crezca y poder trasladar estas cifras a nuevas plataformas, para que los editores web se interesen por los Anuncios Aceptables. Adblock Plus, en un principio sólo disponible en Firefox ya está disponible en Chrome, Android, Opera, Internet Explorer e Safari. También manejamos la infraestructura necesaria para mantener la EasyList la lista de filtros anti publicidad más popular, usada también por otros programas de bloqueo de publicidad.
Our goals are simple:
Continue to work on Adblock Plus so that it can function on various platforms
Keep improving the functionalities of Adblock Plus to provide users with the best possible tool to protect them from malware and have better control of their browsing experience and collection of their personal data
In regards to the Acceptable Ads initiative, Eyeo needs to review and analyze many applications. This includes reviewing ad format, safety precautions, compliance with the Acceptable Ads criteria and technical feasibility of the requested whitelisting, creating the filters for the whitelist, testing the filters, posting to the forum, etc.
Pero Eyeo no es solo Adblock Plus y Anuncios Aceptables. Nuestra misión es hacer de la web un lugar mejor, y queremos conseguirlo creando para los editores web nuevas vías negocio sin tener por ello que alienar a sus usuarios.
¿Recolecta Adblock Plus datos de los usuarios?
No recolectamos datos específicos, y la mayoría de ellos (por ejemplo, qué webs visita usted) ni siquiera llega a ser enviada a nuestros servidores. Para más detalles, lea nuestra Política de privacidad.