Over Adblock Plus
Wat is Adblock Plus?
Adblock Plus allows you to block annoying ads, tracking, malware and other things you may not want in your browser. Adblock Plus is an open source project created by Wladimir Palant in 2006. Eyeo was founded in 2011 by Wladimir Palant and Till Faida to make its development sustainable.
Hoe werkt Adblock Plus?
Adblock Plus itself has no functionality, in the sense that it does not block anything until you "tell" it what to do by adding filter lists. These filter lists are essentially an extensive set of rules, which tell Adblock Plus which elements of websites to block. You can add any filter list you want, for example to block tracking or malware. You can also create your own filter lists.
Wanneer je Adblock Plus voor het eerst installeert, zijn twee lijsten automatisch geactiveerd:
Een blokkeer-lijst gebaseerd op je taalinstellingen
De Acceptable Advertentie uitzonderingen lijst
These are enabled to get you started. You can remove them, or add others - it's up to you.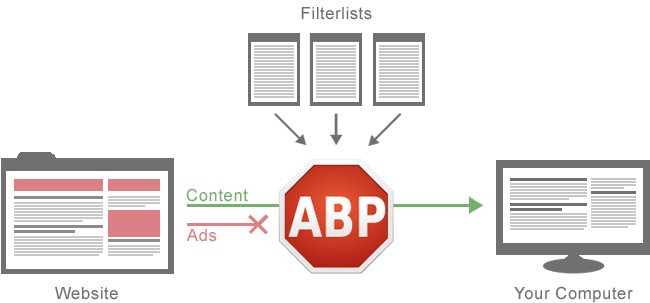 Wat zijn Acceptabele Advertenties?
Many people use Adblock Plus to block annoying ads. However, we don't think that all ads are bad, and we are fully aware that they finance many websites. Therefore we have established strict criteria to identify Acceptable Ads: unobtrusive ones that don't need to be blocked. Websites that are willing to comply with these criteria can apply to have their ads added to the Acceptable Ads exception list, which will unblock them for all users that decided to keep Acceptable Ads enabled. Note that if you don't want to see any ads, you will always be able to opt out of this.
Zie de Acceptabele Advertentie FAQ om meer te leren.
How are we financed?
We receive donations from our users, and we are being paid for support services performed for some larger entities that want to participate in the Acceptable Ads initiative.
Managing the Acceptable Ads initiative requires significant effort on our side and this task cannot be completely taken over by volunteers as it happens with common filter lists, nor could it be sponsored by donations.
Therefore, a few large entities that want to participate in the Acceptable Ads initiative compensate Eyeo for its services. These services are provided free for everybody else (roughly 90% of the participants).
Note that, whether or not an entity pays, we will never whitelist any ad that doesn't meet the criteria. There is no way to buy a spot in the Acceptable Ads list. All whitelisted ads and participanting entities are publicly listed in our forum so you can discuss and share your opinions.
Waarom hebben we geld nodig?
Eyeo GmbH, the company behind Adblock Plus, was founded to pursue a different vision of online advertising. This is not something a single person can do as a hobby.
Wij willen het aantal Adblock Plus gebruikers laten toenemen, en Adblock Plus naar nieuwe platformen brengen om publishers geïnteresseerd te krijgen in Acceptabele Advertenties. Adblock Plus, wat origineel alleen voor Firefox, is nu beschikbaar voor Chrome, Android, Opera, Internet Explorer en Safari. Wij verzorgen ook de infrastructuur die nodig is om EasyList te bezorgen, de meest populaire advertentie blokkeerlijst die ook wordt gebruikt door andere adblockers.
Furthermore, we need to review many Acceptable Ads applications and create the appropriate whitelisting filters.
Maar, Eyeo gaat niet alleen over Adblock Plus en Acceptabele Advertenties. Onze missie is om het web beter te maken, en we willen dit doen door nieuwe manieren te ontwikkelen zodat publishers geld kunnen verdienen aan hun website-inhoud zonder hun gebruikers te vervreemden met vervelende advertenties.
Verzamelt Adblock Plus gebruiker data?
Wij verzamelen geen gebruikers informatie, en de meeste data (bv. de websites die je bezoekt) wordt niet eens naar onze servers verstuurd. Zie onze Privacy Policy voor alle details.