Over Adblock Plus
Wat is Adblock Plus?
Adblock Plus is een gratis extensie waarmee u - onder andere - vervelende advertenties kunt blokkeren, tracking kunt uitschakelen en domeinen kunt blokkeren waarvan bekend is dat ze malware verspreiden. Adblock Plus, beschikbaar voor Android, Chrome, Firefox, Internet Explorer, Maxthon, Opera, Safari en Yandex, gebruikt door u gekozen filters om alle ongewenste elementen te blokkeren.
Created by Wladimir Palant in 2006, Adblock Plus is an open source project licensed under GPLv3. In 2011, Palant, together with Till Faida, founded Eyeo to make its development sustainable.
Hoe werkt Adblock Plus?
Adblock Plus itself has no functionality; it doesn't block anything until you "tell" it what to block by adding external filter lists. Filter lists are essentially an extensive set of rules that tell Adblock Plus which elements of a website to block. You can add any filter list you want. For example, you can block tracking and/or malware (technically, Adblock Plus under default settings already has some level of tracking and malware protection but you can enable more protection). You can also create your own filter lists. Almost all filters are open source, therefore many filter lists have been created by Internet users.
Filterlijsten die standaard zijn ingeschakeld zijn onder andere:
Een blokkeerlijst, gebaseerd op uw taal (EasyList)
De lijst met Acceptable advertenties
These are enabled to get you started. You can remove them or add others - it's up to you.
EasyList corresponds to your browser language and is aimed at disabling ads that are considered to be intrusive by our community of users. Please note, Eyeo GmbH did not draft EasyList and therefore has no right to, or control over, its content. Visit the EasyList Community for more information.
The Acceptable Ads list displays ads that comply with the acceptable ads criteria agreed upon by our community of users. The list is maintained by Eyeo GmbH.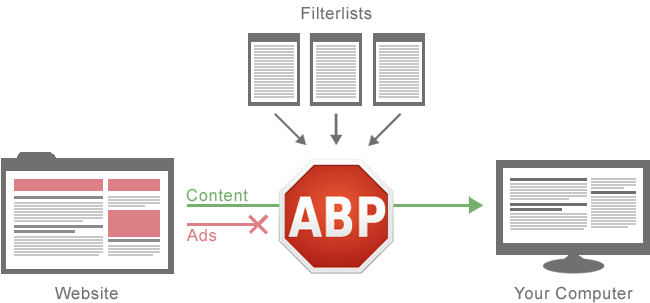 Wat zijn Acceptabele advertenties?
We don't think all ads are bad and are fully aware that ads finance many websites. So, in 2009 we decided to find some common ground. Our solution involved asking Adblock Plus users, and our community at large, to help identify criteria that makes for better ads. From these discussions, we established strict criteria to identify nonintrusive ads. In 2011, we began implementing the Acceptable Ads initiative. Participants that wish to comply with the Acceptable Ads initiative can apply to be added to the Acceptable Ads list. Participating in the Acceptable Ads initiative is usually free of charge for participants. Only larger entities, which gain more than 10 million additional ad impressions through their participation, are required to pay a monthly fee (for more information, please read about how we are financed). Adblock Plus users have the option to display ads that are on the Acceptable Ads list or to disable the Acceptable Ads feature and browse completely ad-free. To view the list of acceptable ads, visit the Acceptable Ads Proposals forum.
Zie de Acceptabele Advertentie FAQ om meer te leren.
Hoe we worden gefinancierd
We ontvangen wat donaties van onze gebruikers, maar onze grootste inkomstenbron komt voort uit het Acceptable Ads-initiatief. Grotere entiteiten betalen een licentievergoeding voor de aangevraagde en aan hen geleverde whitelisting-diensten (90% van de licenties wordt gratis verstrekt, aan kleinere entiteiten). Er moet worden opgemerkt dat onafhankelijk van de overweging voor vergoedingen aan de Acceptable Ads-criteria moet worden voldaan. Als niet aan de criteria wordt voldaan, is whitelisting niet mogelijk.
Enkele details omtrent de vergoedingen:
Alleen grote entiteiten moeten betalen. We kwalificeren een entiteit als groot wanneer deze meer dan 10 miljoen aanvullende advertentie-impressies per maand oplevert als gevolg van deelname in het Acceptable Ads-initiatief.
Voor deze entiteiten vertegenwoordigt onze licentievergoeding normaliter 30 procent van de aanvullende omzet die door whitelisting van acceptabele advertenties ervan wordt gecreëerd.
Het beheren van het Acceptable Ads-initiatief vereist significante inspanning van onze kant met inbegrip van, maar niet beperkt tot continue beoordeling en monitoren van de individuele 'gewhiteliste' advertenties, begeleiding van deelnemers en technische ondersteuning. Deze diensten kunnen niet volledig worden overgenomen door vrijwilligers, noch worden gesponsord door donaties, zoals wellicht met veelgebruikte filterlijsten het geval is.
Om deze reden wordt Eyeo door enkele zeer grote entiteiten die deel uitmaken van het Acceptable Ads-initiatief gecompenseerd voor haar diensten. Eyeo's diensten worden aan alle andere deelnemers (grofweg 90%) kosteloos aangeboden.
Belangrijk: elke entiteit op de witte lijst - betalende deelnemer of niet-betalende deelnemer - MOET dezelfde strenge criteria aanhouden die onze gebruikers hebben geaccepteerd als onderdeel van het Acceptable Ads-initiatief. We zullen nooit advertenties accepteren die niet aan deze criteria voldoen. Er is geen manier om een plek op de Acceptable Ads-uitzonderingenlijst te kopen. Alle advertenties op de witte lijst en deelnemende entiteiten worden publiekelijk vermeld op ons forum. Voel u vrij om uw meningen te bespreken en te delen.
Waarom hebben we geld nodig?
Eyeo GmbH, the company behind Adblock Plus, was founded to pursue a different vision of online advertising. This is not something a single person can do as a hobby.
Wij willen het aantal Adblock Plus gebruikers laten toenemen, en Adblock Plus naar nieuwe platformen brengen om publishers geïnteresseerd te krijgen in Acceptabele Advertenties. Adblock Plus, wat origineel alleen voor Firefox, is nu beschikbaar voor Chrome, Android, Opera, Internet Explorer en Safari. Wij verzorgen ook de infrastructuur die nodig is om EasyList te bezorgen, de meest populaire advertentie blokkeerlijst die ook wordt gebruikt door andere adblockers.
Our goals are simple:
Continue to work on Adblock Plus so that it can function on various platforms
Keep improving the functionalities of Adblock Plus to provide users with the best possible tool to protect them from malware and have better control of their browsing experience and collection of their personal data
In regards to the Acceptable Ads initiative, Eyeo needs to review and analyze many applications. This includes reviewing ad format, safety precautions, compliance with the Acceptable Ads criteria and technical feasibility of the requested whitelisting, creating the filters for the whitelist, testing the filters, posting to the forum, etc.
Maar Eyeo gaat niet alleen over Adblock Plus en Acceptabele advertenties. Onze missie is het verbeteren van het web. We willen dit doen door nieuwe manieren te ontwikkelen, zodat uitgevers geld aan hun inhoud kunnen verdienen zonder hun gebruikers te vervreemden met vervelende advertenties.
Verzamelt Adblock Plus gebruikersgegevens?
We verzamelen geen specifieke gebruikersgegevens. De meeste gegevens (bv. de websites die u bezoekt) worden niet eens naar onze servers verstuurd. Zie ons Privacybeleid voor details.