O Adblock Plus
Čo je Adblock Plus?
Adblock Plus je rozšírenie zadarmo ktoré - okrem iného - blokuje otravné reklamy, zakazuje sledovanie a blokuje domény, ktoré môžu šíriť malwér. Je dostupný pre Android, Chrome, Firefox, Internet Explorer, Maxthon, Opera, Safari a Yandex, Adblock Plus používa prvky, ktoré si vyberiete vy pre blokovanie všetkých nežiadúcich prvkov.
Vytvorený v roku 2006 Wladimirom Palantom, Adblock Plus je open source projekt. V roku 2011 Palant spolu s Tillom Faidom založil Eyeo aby bol projekt udržateľný.
Ako Adblock Plus pracuje?
Adblock Plus, sám o sebe nemá žiadne funkcie; neblokuje nič, kým mu "nepovieš" to, čo má blokovať pridaním externých filtrov zoznamov. Zoznamy filtrov sú v podstate rozsiahly súbor pravidiel, ktoré povedia Adblocku Plus, ktoré prvky (reklamy) webovej stránky blokovať. Môžete pridať akýkoľvek požadovaný zoznam filtrov. Napríklad zablokovať sledovanie alebo malware. Môžete tiež vytvoriť svoje vlastné zoznamy filtrov. Takmer všetky filtre sú open source (otvorený zdroj), preto mnoho zoznamov filtrov boli vytvorené používateľmi internetu.
Štandardne sú zapnuté dva zoznamy filtrov:
Blokovací zoznam zvolený na základe vášho jazyka
Zoznam akceptovaných reklám
Tieto sú zatiaľ povolené. Môžeš ich hocikedy odstrániť alebo pridať dalšie - je to na tebe.
EasyList odpovedá na jazyk prehľadávača a je zameraný na zakázanie reklám, ktoré sa považujú za rušivé našej komunite užívateľov. Eyeo GmbH, nenapísalEasyList a preto nemá právo, alebo kontrolu nad jeho obsahom. Navštívte komunitu EasyList pre viac informácií.
Zoznam reklám, ktoré sú akceptovateľné sú v súlade s kritériami akceptovaných reklám našej komunity používateľov. Zoznam udržiava Eyeo GmbH.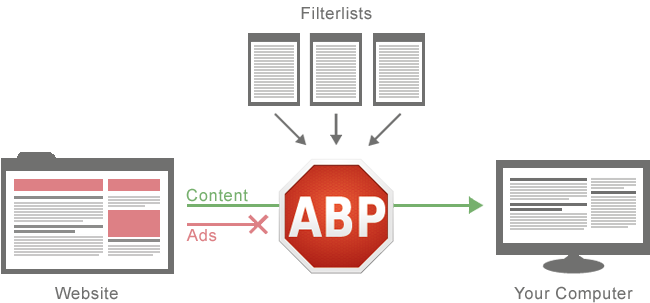 Čo sú akceptované reklamy?
We don't think all ads are bad and are fully aware that ads finance many websites. So, in 2009 we decided to find some common ground. Our solution involved asking Adblock Plus users, and our community at large, to help identify criteria that makes for better ads. From these discussions, we established strict criteria to identify nonintrusive ads. In 2011, we began implementing the Acceptable Ads initiative. Participants that wish to comply with the Acceptable Ads initiative can apply to be added to the Acceptable Ads list. Participating in the Acceptable Ads initiative is usually free of charge for participants. Only larger entities, which gain more than 10 million additional ad impressions through their participation, are required to pay a monthly fee (for more information, please read about how we are financed). Adblock Plus users have the option to display ads that are on the Acceptable Ads list or to disable the Acceptable Ads feature and browse completely ad-free. To view the list of acceptable ads, visit the Acceptable Ads Proposals forum.
Prosím pozrite si často kladené otázky o akceptovaných reklamách aby ste sa dozvedeli viac.
How we are financed
We receive some donations from our users, but our main source of revenue comes as part of the Acceptable Ads initiative. As detailed below, larger entities pay a licensing fee for the whitelisting services requested and provided to them (around 90 percent of the licences are granted for free, to smaller entities). It should be noted that all ads must first abide by the Acceptable Ads criteria, regardless of whether the entity serving them would be required to pay or not. If the criteria are not met, whitelisting is impossible.
Here are some details regarding the fees:
Only large entities have to pay. We qualify an entity as large when it gains more than 10 million additional ad impressions per month due to participation in the Acceptable Ads initiative.
For these entities, our licensing fee normally represents 30 percent of the additional revenue created by whitelisting its acceptable ads.
Managing the Acceptable Ads initiative requires significant effort on our side including, but not limited to, ongoing review and monitoring of the individual whitelisted ads, counseling participants and technical support. These services cannot be completely taken over by volunteers nor be sponsored through donations, as may be the case with commonly used filter lists.
Therefore, a few very large entities who take part in the Acceptable Ads initiative compensate Eyeo for its services. Eyeo's services are provided free of charge to all other participants (roughly 90%).
Important: Every entity on the whitelist - paying participant or non-paying participant - MUST maintain the same strict criteria that our users accepted as part of the Acceptable Ads initiative. We will never accept any ad that doesn't meet these criteria. There is no way to buy a spot on the Acceptable Ads exception list. All whitelisted ads and participating entities are publicly listed on our forum. Feel free to discuss and share your opinions.
Prečo potrebujeme peniaze?
Eyeo GmbH, the company behind Adblock Plus, was founded to pursue a different vision of online advertising. This is not something a single person can do as a hobby.
In fact, we have a small but growing team that supports our users and the increasing amount of participants who choose to partake in the Acceptable Ads initiative.
Our goals are simple:
Continue to work on Adblock Plus so that it can function on various platforms
Keep improving the functionalities of Adblock Plus to provide users with the best possible tool to protect them from malware and have better control of their browsing experience and collection of their personal data
In regards to the Acceptable Ads initiative, Eyeo needs to review and analyze many applications. This includes reviewing ad format, safety precautions, compliance with the Acceptable Ads criteria and technical feasibility of the requested whitelisting, creating the filters for the whitelist, testing the filters, posting to the forum, etc.
Eyeo nie je len o Adblocku Plus a akceptovateľných reklamách. Naša misia je spraviť web lepším, máme v úmysle to robiť prostredníctvom vytvárania nových spôsobov, ako môžu vydavatelia zarobiť peniaze z ich obsahu.
Zbiera Adblock Plus používateľské dáta?
My nezbierame špecifické používateľské dáta, a väčšina dát (napr. ake stránky navštevujete) nie su nikdy poslané na naše servery. Prosím pozrite si zásady ochrany osobných údajov pre všetky detaily.