關於 Adblock Plus
什麼是 Adblock Plus?
Adblock Plus allows you to block annoying ads, tracking, malware and other things you may not want in your browser. Adblock Plus is an open source project created by Wladimir Palant in 2006. Eyeo was founded in 2011 by Wladimir Palant and Till Faida to make its development sustainable.
Adblock Plus 是如何工作的?
Adblock Plus itself has no functionality, in the sense that it does not block anything until you "tell" it what to do by adding filter lists. These filter lists are essentially an extensive set of rules, which tell Adblock Plus which elements of websites to block. You can add any filter list you want, for example to block tracking or malware. You can also create your own filter lists.
啟用之初,兩個過濾規則規則已經被啟用:
基於您電腦默認語言的廣告過濾規則
可接受廣告白名單
These are enabled to get you started. You can remove them, or add others - it's up to you.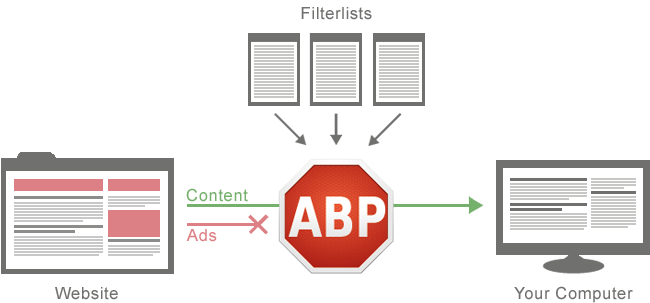 什麼是可接受的廣告?
Many people use Adblock Plus to block annoying ads. However, we don't think that all ads are bad, and we are fully aware that they finance many websites. Therefore we have established strict criteria to identify Acceptable Ads: unobtrusive ones that don't need to be blocked. Websites that are willing to comply with these criteria can apply to have their ads added to the Acceptable Ads exception list, which will unblock them for all users that decided to keep Acceptable Ads enabled. Note that if you don't want to see any ads, you will always be able to opt out of this.
請閱讀可接受的廣告常見問題 來了解更多。
How are we financed?
We receive donations from our users, and we are being paid for support services performed for some larger entities that want to participate in the Acceptable Ads initiative.
Managing the Acceptable Ads initiative requires significant effort on our side and this task cannot be completely taken over by volunteers as it happens with common filter lists, nor could it be sponsored by donations.
Therefore, a few large entities that want to participate in the Acceptable Ads initiative compensate Eyeo for its services. These services are provided free for everybody else (roughly 90% of the participants).
Note that, whether or not an entity pays, we will never whitelist any ad that doesn't meet the criteria. There is no way to buy a spot in the Acceptable Ads list. All whitelisted ads and participanting entities are publicly listed in our forum so you can discuss and share your opinions.
我們為什麼需要錢?
Eyeo GmbH, the company behind Adblock Plus, was founded to pursue a different vision of online advertising. This is not something a single person can do as a hobby.
我們需要擴大Adblock Plus 的用戶規模並延伸到新的平台,以便讓發行商對可接受廣告項目感興趣。所以我們將原先Firefox平台獨有的Adblock Plus 帶到了Chrome, Android, Opera, Internet Explorer及Safari平台。同時我們也構建並管理最受歡迎的EasyList過濾規則列表,眾多其他過濾器可藉此實現廣告過濾。
Furthermore, we need to review many Acceptable Ads applications and create the appropriate whitelisting filters.
然而Eyeo 不僅僅指的是Adblock Plus 和可接受廣告項目。我們的使命是讓互聯網變得更美好,實現方式是建立新方法以使互聯網發行商在不疏遠用戶的同時能夠通過其內容賺取收入。
Adblock Plus 會收集用戶信息嗎?
我們從不收集任何用戶的信息。大多數用戶信息(比如網站訪問歷史)從未被發送到我們的服務器。請閱讀我們的隱私策略 來了解更多詳情。